DURHAM, N.C. – Durham police arrested the mother of a local elementary student after the woman allegedly threw lighter fluid on the boy's teacher and threatened to burn down the school.
Eno Valley Elementary School kindergarten teacher Megan Jones recently scheduled a parent-teacher conference with Shequella Sheala Leonard, who didn't take kindly to accusations about her son's bad behavior.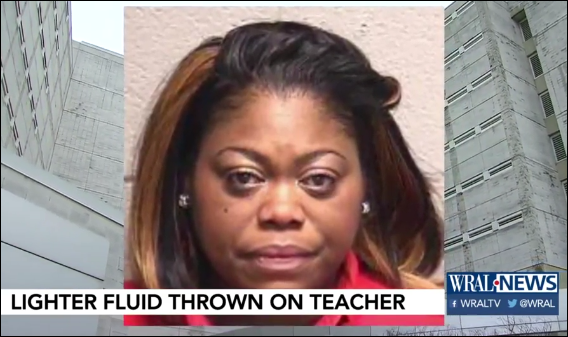 MORE NEWS: VIDEO: Throng of illegals waits to be rafted across Rio Grande
WRAL reports:
About five minutes into the meeting, the school principal told Leonard that she needed to leave the building, and the group, which included Leonard's son, exited into a hallway, police said.
Once in the hallway, Jones told police that Leonard pulled a bottle from her purse and began spraying a liquid on Jones' arms, face and chest. Jones ran away from Leonard when the liquid began burning her eyes, police said.
Police allege Leonard threatened to light the teacher on fire and burn the school down before she drove off in her SUV with her son, according to WECT.
The teacher, meanwhile, suffered injuries to her eyes because of the ordeal.
"According to the warrant, Jones was injured when the substance, identified as lighter fluid, splashed into her eyes," WRAL reports.
The 30-year-old mother was later arrested and charged with assault with a deadly weapon with intent to kill, malicious use of explosives causing injury and misdemeanor communicating threats. She was lodged in the Durham County Detention Center on a $50,000 bond with a court appearance scheduled for Wednesday, the news site reports.
A WRAL reporter said Jones wasn't up for discussing the incident.
MORE NEWS: VIDEO: Ron Paul appears to suffer 'stroke' during livestream
"As you can imagine, that teacher is not really in a position to talk to us. She doesn't want to talk, and that's understandable," WRAL's Candace Sweat said.
Many folks who commented about the debacle online didn't seem surprised Leonard's son has behavioral problems, considering the way the boy's mother reacts in public.
"Adults behaving even worse than their children – is it any wonder that the kids then grow up to have no boundaries or moral development?" Lilly Edens questioned on Facebook. "What goes through an adult woman's head to even CONSIDER doing something like that?"
"She brought the lighter fluid with her she was planning on doing something," Lisa Atkins wrote. "This is crazy for teachers to have to deal with."
"Wonder how she treats her son?" Kathy Blake added. "So sad that people have lost all sense of right and wrong. These poor kids growing up in homes like hers."
"She just happened to have lighter fluid in her purse?" Joseph Tiedeken Jr. posted. "Can't wait to hear why."
"This woman needs a psych consult and incarceration. She's clearly a danger to others and is a poor role model for any children she might have," Kathleen Evans wrote.
"Sounds like his behavior stems from her. Maybe DSS and police should check out the home situation," Veronica Richardson posted. "If throwing lighter fluid type situations are happening in that home, it's best any children be removed ASAP."