LAKE PLACID, N.Y. – Lake Placid business owner Jim McCulley thinks spending by local school officials is "out of control" and he's raising the alarms about an upcoming vote on renewing taxes to fund a series of capital projects.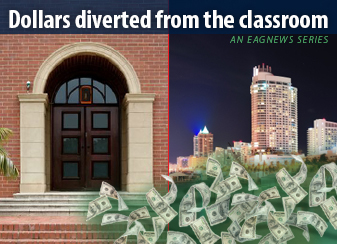 Area voters will cast their ballots on May 16 to decide whether to renew a $22 million tax to fund a series of building projects in the Lake Placid Central School District, and McCulley wants voters to fully understand how officials plan to spend the money.
MORE NEWS: Know These Before Moving From Cyprus To The UK
"I went to the budget meeting where they put out their spending plan it was one of the least professional things I've ever seen done," said McCulley, president of Tri Lakes Vending in Lake Placid.
"What they're basically doing is they (secured taxes from voters to) put an addition on 20 years ago, and they just want to spend another $22 million so they don't have to give the money back to taxpayers."
The school tax is set to expire, but Lake Placid officials want voters to renew the tax so they brought in contractors to a public spending meeting in March to explain the need for a long list of proposed infrastructure improvements.
McCully, a frequent critic of district spending, questioned many of the items both at the meeting and in a recent letter to the editor of the Adirondack Daily Enterprise.
He told EAGnews he believes most of the items on the district's list of proposed projects are completely unnecessary, and alleges the spending plan has little to nothing to do with improving education for students.
LPCSD plans to spend $2.3 million on a retaining wall near the high school despite the fact that officials were initially unsure if the district owned the structure, as well as $2.35 million on upgrading to a steam heating system contractors allege will save an astronomical $500,000 per month on fuel oil during the winter.
"They are just totally out of control and personally I'm amazed the public isn't with it," McCulley told EAGnews. "The district has been spending and spending with declining enrollment for 15 years and nobody seems to care."
MORE NEWS: How to prepare for face-to-face classes
He took aim at several of the proposed items in his letter to the Daily Enterprise.
"The school plans to spend $2.3 million on the retaining wall along School Street. When asked at the project informational forum if they even owned the wall, they said they didn't know and would be 'looking into it,'" McCulley wrote. "Most organizations know if they owned something before they would look at spending millions."
"The next $2.5 million is to be spent on changing from steam heating system to a hot water system. When asked what the return on investment was, they had no numbers to support the change. But the representative from Mosaic Associates claimed they had done a similar project and saved $500,000 per month in the winter on fuel oil," he continued. "I would bet they don't spend that a year on fuel."
McCulley also took aim at a plan to spend $1.731 million for about 2,000 square feet of storage space.
"That is $886 per square foot for storage. A lease for 2,000 square feet of heated storage would cost about $24,000 per year. That is a 72-year payback for the school to build storage," he wrote. "When asked what they need to store, (Superintendent Roger) Catania explained, 'We have a ping-pong tournament every year, and we have to store the tables.' He also described storage issues due to the after-school ski program. None of the reasons given were for an educational benefit."
McCulley told EAGnews the spending proposal is particularly egregious in light of the district's poor academic performance and astronomically high per-pupil spending. Despite the higher than average spending, Lake Placid schools have been designated as "focus" schools under the state's accountability system because students haven't met state academic standards.
"They could care less about education, it's just about keeping up with the Jones' with taxpayer money. The educational quality is terrible, we have at least five rubber room teachers and we're a small district," McCulley said, referring to teachers who are removed from the classroom for bad behavior but continue to collect a salary because union rules make it nearly impossible to fire them.
"These schools would much rather have a shiny new building than send a student out with useful diploma," he said. "That's the tragedy of it."
McCulley contends it's not just the big ticket items on the district wish list that are unnecessary, but virtually all of the "needed" improvements, save a 40-year-old roof replacement at the local elementary school that's slated to cost $425,000.
McCulley pointed to $40,000 to replace exterior lighting around the full perimeter of the elementary school, $245,000 to renovate an elementary school bathroom, as well as $152,000 to renovate a track, $225,000 to build tennis courts, a nearly $1 million roofing renovation at the high school, and numerous other items.
"The roofing system at the high school is not leaking, but they want to replace it because the warranty is up," McCulley said, adding that he also spoke with the contractor who replaced the elementary school lights two years ago with high efficiency LEDs.
"This is the stuff that they're doing all the time," McCulley said. "They're literally asking for $700,000 so they can move the wings back on the auditorium so they don't have to keep" stage props in a hallway.
"It's just one thing after another," he said. "It's amazing that they're so concerned about giving any money back that they'll spend wildly."
LPCSD Superintendent Catania responded to McCulley's criticisms wither his own letter to the Daily Enterprise, though he did not dispute many of the claims.
Catania contends a recent land survey confirms LPCSD owns the retaining wall in need of replacement, and contends "the conversion from steam heat to hot water will increase efficiency and eliminate the need for constant and costly plumbing repairs to our aging system."
"Plans for new storage, along with a number of additional projects, were already cut from the project following a series of community forums and after considering feedback from community members," he wrote.
The district is no longer designated as a "focus" district by the state, and Catania contends district leaders have cut faculty by 14 percent as the student enrollment declined by 10 percent since 2008.
He did not reveal whether the district's overall spending has declined with student enrollment, or whether the changes to the planned projects will reduce the proposed tax burden.
Catania's letter also neglected to address McCulley's core concern.
"While these projects are a nice wish list, they do nothing to improve the students' education in this district," McCulley wrote to the Daily Enterprise. "It seems to be a list created just to ensure taxpayers do not get a small tax break, and it should be rejected by LPCSD taxpayers."