GRAND PRAIRIE, Texas – A Texas news station is blowing the lid off a local school superintendent's pricey perks paid for with taxpayer dollars.
Fox 4 launched an investigation in March into the lavish lifestyles of North Texas school superintendents, and it uncovered one superintendent in particular who is living the high life heavily subsidized by local taxpayers.
MORE NEWS: VIDEO: Throng of illegals waits to be rafted across Rio Grande
The Grand Prairie Independent School District purchased a home and five acres near a popular fine arts academy for nearly $700,000 about a year and a half ago, allegedly with plans to build another access road to the school or additional educational facilities.
But a district spokesperson told GPISD has no timetable for following through on the plans, and confirmed superintendent Susan Hull currently lives in the four-bedroom, two and a half bath, 2,700 square foot home.
The Dallas Central Appraisal District valued the property at $400,000, but Hull is exempt from paying what would be a $12,000 annual property tax bill because it's owned by the taxpayers.
The discovery prompted Fox 4 to dig deeper, and district officials released additional records four months after the station submitted a public information request that reveal taxpayers also footed the bill for $125,000 in renovations to the home that were never approved by the school board.
The former school board president, Terry Brooks, alleged the money went toward mold remediation, but district records showed otherwise.
Receipts for the renovations included a $45,000 fence to surround the property, patio ceiling fans, granite counter tops, $1,200 in caulking around the home's large in-ground pool deck, and a new driveway.
MORE NEWS: VIDEO: Ron Paul appears to suffer 'stroke' during livestream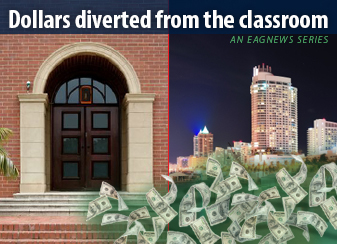 "If the ultimate use of the property is for an educational facility," SMU political expert Cal Jillson told Fox 4, "that house is going to be torn down and an educational facility is going to be built, and all the … costs will be lost."
The district's policy requires school board approval for expenses over $50,000, and Fox 4 learned the home renovations were split up on different invoices with totals below that threshold, and submitted one day apart.
"For administrators to break up an $80,000 bill into two – each less than $50,000 – so they don't have to get that approval is skirting the rules purposefully, and shouldn't be done," Jillson opined.
Jillson insisted the situation is just wrong.
"It's not an ethical gray area, it's simply law," he said. "The rule is that if your expenditure is more than $50,000, you've got to take it for approval to the elected school board."
Brooks told Fox 4 the school board took care of the issue by identifying those responsible and providing them with additional training, though district officials refused to provide the names or job titles of anyone involved.
The news station reports Hull is also the top-paid superintendent in the region with $360,000 annual salary, as well as bonuses and allowances totaling an additional $84,000.
District officials told the news site the school system charges Hull $2,000 per month to rent the home, though she receives a $1,000 per month housing allowance as part of her perk package.