Dover High School graduate Jody Grant wanted to protest police brutality with her senior mural on the school driveway, a tradition dedicated to highlighting students' aspirations and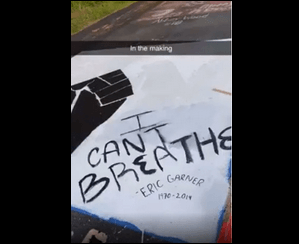 accomplishments.
But district officials painted over the resistance fist and "I can't breathe" quote, along with the names of black people who have died in clashes with police, because the artwork "was not in accordance with the parameters we apply to this senior privilege," Dover Union Free District Superintendent Mike Tierney told the Poughkeepsie Journal.
MORE NEWS: Buttigieg to lecture Notre Dame students about 'The Nature of Trust'
Grant told the news site the only guidance given to students for the project was not to paint the American flag.
"I was hurt, but not surprised," she said. "The school has never been a place to allow blacks to really voice their opinion.
"Getting rid of the names, those names should never have been painted over," Grant said.
What remains is a giant white square with tire marks from a burn out.
In a letter to Grant, Tierney apologized for not providing students with the "parameters" for senior murals and the girl's family and district ultimately crafted a compromise that allows the teen to paint the quote "I can't breathe" and the names of folks who have influenced her life, the Journal reports.
"I learned a great deal from this experience that I will take forward as we look to improve our work," the superintendent told the news site.
MORE NEWS: Students, staff demand university fire security administrator over military leadership at Guantanamo Bay
But the compromise isn't sitting well with Grant, who aired her grievances about the mural debacle and alleged racism she experienced in the school district in a six-page essay to Tierney that was sent out to the media.
Grant alleged in the letter that she was the victim of racism at Dover High School four years ago, and claimed a double standard that prohibited her and other students from protesting the school's Red, White and Blue Spirit Day by wearing black, while other students brought in Trump flags.
About 4 percent of the school's student population is black, the Journal reports.
"You want to validate yourself but honestly it is too late. You all messed up when you decided to get rid of something that is a current issue in this country," Grant wrote. "Just know you will NEVER be able to stop me from speaking up on what I believe in. This is just the beginning."
The controversy comes as local Dover high schoolers are working with the NAACP for Project DREAM – an acronym for "Diversity, Respect, Education, Advocacy and Mission" – to hold candlelight vigils for George Floyd. The goal: an end to "violence of police brutality against innocent black lives."
Dover High student Palmira Wilson told Fosters.com she help found Project DREAM because Floyd's death "makes me feel like I can't even be in a country like this."
"I love America but things like this should not be happening now," she said. "I shouldn't be afraid to go outside just because of my skin color."
"It just makes me sad," she said.
Grant and Ariana Lasher, another Dover High alumni, are also taking action by attempting to convince others to paint their driveways for the cause.
"To sand in solidarity with Jody Grant, a high school senior whose #BLM memorial was covered up by her school, we are asking the world to join us in painting her mural at your own homes," the group's Facebook page reads.